"Parents and kids should know, trust and like their dentist. My passions are healthy smiles and relationships with families in the Elk Grove and South Sacramento communities."

Garrett Lee, DDS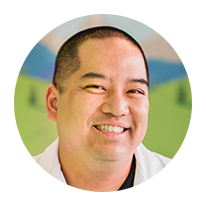 Neighborhood Dentist
Our office is a second home. You'll know Dr. Garrett and his staff. And we'll get to know you. Everything we do is about personalized care and relating to the diverse families in our community, including our famous tooth-brushing station.
Get To Know Us
The Dr. Garrett Difference
Board certified in pediatric dentistry. That official designation represents years of specialized training, after Dental school, to treat children.
Maximum patient attention and parental interaction
Welcoming and experienced with special needs
"Wow, I can't really express how caring, compassionate, and polite Dr. Garrett Lee is. He explained the entire procedure beforehand and totally remembered us. I can tell that he genuinely cares about the well-being of his patients and that he has a strong passion for children's dentistry."
Frank W.
"Dr. Garrett is awesome."
Irene P.
"Dr Garrett Lee is great, always makes sure kids are comfortable."
Jason K.
"Dr. Garrett is a 2 thumbs up dentist. This is the best experience I've had at a dentist. Fabulous."
Leah P.
"Dr. Garrett Lee was great! Kids were relaxed with him."
Monica W.
"I don't know why I haven't reviewed yet, but my children have been going here for few years and they actually look forward to seeing Dr. Garrett and the nice staff. I always find Dr. Garrett refreshing, for lack of a better term."
RL L.